Start of Main Content
Considering or already wearing contact lenses, but concerned about the waste created by blister packs, top foils, and lenses? The Visual Services Department at Atrius Health is proud to announce our participation in the ONE by ONE Contact Lens Recycling Program, an innovative specialty recycling service created by Bausch & Lomb and TerraCycle.

The ONE by ONE Contact Lens Recycling Program is the only contact lens recycling program in the U.S. and an effective way to properly recycle your contact lens waste. This free recycling service applies to any and all brands of soft contacts, and it is available to all of our patients! And, as an added bonus, for every 10-pound collection, a $10 donation will be made to Optometry Giving Sight, a global fundraising initiative aiming to solve unnecessary blindness and vision impairment in communities around the world with limited or no access to eye exams and optical correction.


Why recycle contact lenses?
Most contact lens wearers are not properly recycling their contact lens waste. All too often, contact lenses are flushed in drains, like toilets and sinks. When wrongfully disposed of, up to 3 billion contacts may end up in our wastewater treatment plants each year, accumulating as microplastics in our waterways, harming marine life, and entering the human food supply. Standard recycling does not work well either: contact lens waste is too small and gets filtered out to end up in landfills. Just imagine that an end-to-end trail of the contact lens packaging waste generated in the U.S. annually could circle the earth 3 times over!


How to join the contact lens recycling efforts?
Participation is completely free and very easy. Simply collect your blister packs, top foils, and contact lenses at home and drop them off at any of our Atrius Health optical shops when ready to recycle. You do not need to clean the waste before dropping it off or worry about separating or sorting the materials. Please note that cardboard boxes are recyclable through regular municipal recycling, so do not include them in your drop-off.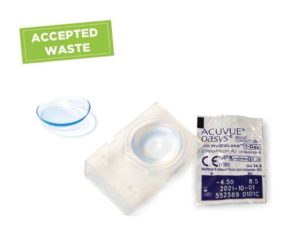 Atrius Health Optical Shop drop-off locations for contact lens recycling:
Braintree - 111 Grossman Drive, Braintree, MA 02184
Chelmsford - 228 Billerica Road, Chelmsford, MA 01824
Chestnut Hill/West Roxbury - 291 Independence Drive, Chestnut Hill, MA 02467
Concord -330 Baker Avenue, Concord, MA 01742
Dedham- One Lyons Street, Dedham, MA 02026
Kenmore - 133 Brookline Avenue, Boston, MA 02215
Medford - 26 City Hall Mall, Medford, MA, 02109
Peabody/Lynnfield - 2 Essex Center Drive, Peabody, MA 01960
Quincy - Presidents Place, South Tower 1250 Hancock Street, Quincy, MA 02169
Somerville – 40 Holland Street, Somerville, MA 02144
Wellesley - 230 Worcester Street, Wellesley, MA 02481
If you are interested in shipping your contact lens waste directly to TerraCycle from home, visit Terracycle for more details.